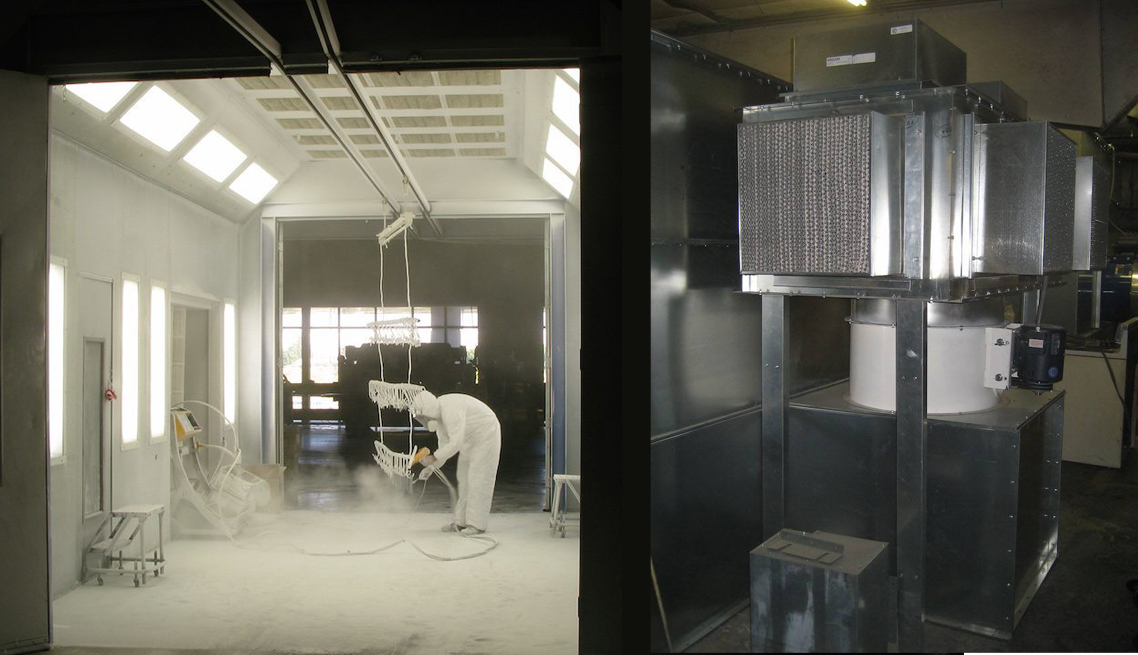 Manual Powder Coating Booths
With an open-front design, Thermocoat's manual powder coating booths (also known as powder coating spray booths) are perfect for low-volume powder applications. A cost-effective solution, this booth makes efficient use of shop space and is used for large or small parts. With an open face design and a 3-stage filtration system, the air is drawn in through the open front of the spray booth and passes through the booth's working area into the filtered exhaust plenum. The air is filtered in three stages and discharged back into the room.
Features
Thermocoat booths are constructed from heavy-duty 18-gauge, prime quality galvanized steel and engineered with the corresponding support structure.
All panels and support members are laser cut and precision formed for consistent fit allowing for easy nut and bolt assembly.
3-Stage Filtration System is extremely effective at catching powder dust; Stage 1: Blanket style filter, Stage 2: Bag style filter, Stage 3: Hepa type filter.
Final Filter Proving Assembly ensures filters are installed and functioning properly and interlocks with the air solenoid valve.
All RTT booths utilize efficiently and quality brand-name tube-axial fans and motors.
LED lighting is constructed of 22-gauge steel which is powder coated white, and available in 4000 and 8000-lumen models. E-Lights are ETL listed for the US and Canada with Class 1 Division 2, Group A, B, C, D and Class 2 Division 2, Group F and G ratings.
Air solenoid valve interlocked to the exhaust fan and air supply for the spray application equipment.
RTT booths meet and/or exceed quality performance standards and all applicable OSHA regulations.